Welcome to the modern age of kitchen design.  You no longer have to wait until your project is complete to know if you and your kitchen designer are on the same page with what you want to see in your kitchen.  We bring our revolutionary software to you, regardless of your location.  From cabinet door styles to lighting arrangements, let us show you what your dream kitchen will actually look like before you invest thousands of dollars on your remodel. 

If you live in Central Texas we will come to your home - at your convenience to measure and design your kitchen.  We use hardware that projects our computer screen onto your high definition television so that you won't need to gather around our laptop trying to find a good angle to view your changes.  We offer many different design services anywhere from designing a basic kitchen layout to general contracting your entire project.

Todays technology also allows us to design your kitchen from thousands of miles away while you watch us in live time on your computer.  With our remote online kitchen design, you no longer have to wait for someone local to have this state-of-the-art software.  Simply log onto a website that we will provide you with and watch your new kitchen come to life as we discuss your changes over the phone.  We offer several different options to best fit your needs as well as your budget.  Call us today to discuss your project and find out which option is right for you.

The image on the left is a rendering from our kitchen design software and the image on the right is an actual photo of the finished remodel.  To find out what your finished remodel will look like before you start, call us today. 


Kitchen Design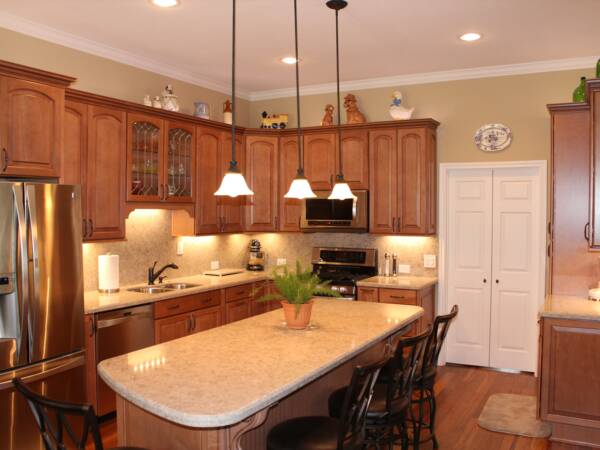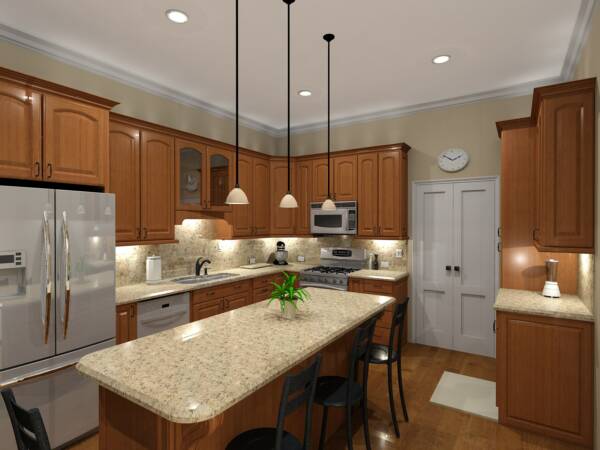 Experience is everything!  Our kitchen designer has over 20 years of experience in the cabinetry industry.  From working on the lines at Kraftmaid to building one of a kind furniture grade cabinets, no one will be able to explain the differences in the two more honestly and accurately.  He has also installed tens of thousands of cabinets in his 20 years in this industry. 

Click
here
to find out why it is so important to hire a professional to start your kitchen remodel off on the right track.  This page is a long read but it explains in great detail what you need to know before you invest thousands of dollars in your kitchen renovation as well as what to look out for in who you hire to do it.
We are a family owned and operated business located in Perry, Texas.  We design kitchens for clients all across America and do the majority of our remodels in Waco, Temple, Killeen, Copperas Cove, Bryan/College Station and their surrounding areas.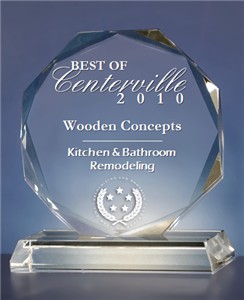 Copyright 2002 Wooden Concepts: Custom Cabinets and Kitchen Design. All Rights Reserved.

Kitchen Design Photo Gallery

This photo gallery shows just how realistic our kitchen design software is.  It is important to remember that these are all kitchen design renderings and not actual photos.  This software is so powerful that it is easy to forget that you're not looking at an actual kitchen.  Click on any of the designs below to open the photo gallery for a larger view.


Alaska's first choice for quality craftsmanship

Alaska's first choice for quality craftsmanship